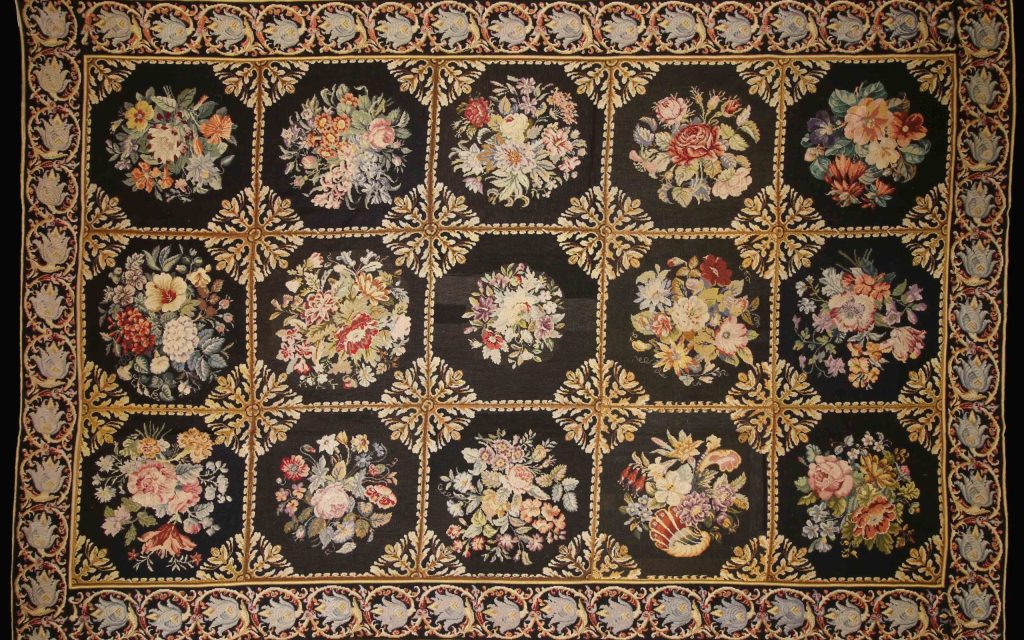 (Information based on English Needlework Carpets, 16th – 19th century by M. J. Mayorcas, 1963)
Dating back to the 16th century, the craft of English Needlework is defined as embroidery carried out in either wool, silk or other thread worked on to a canvas made either from linen, cotton, jute or hemp. The stitches employed are universal throughout a piece and these can vary from tent-stitch to cross stitch or the lesser-known gobelin stitch.
The identification of an English Needlework rug is defined by the characteristic of a single type of stitch in a single material onto canvas with identifiable designs.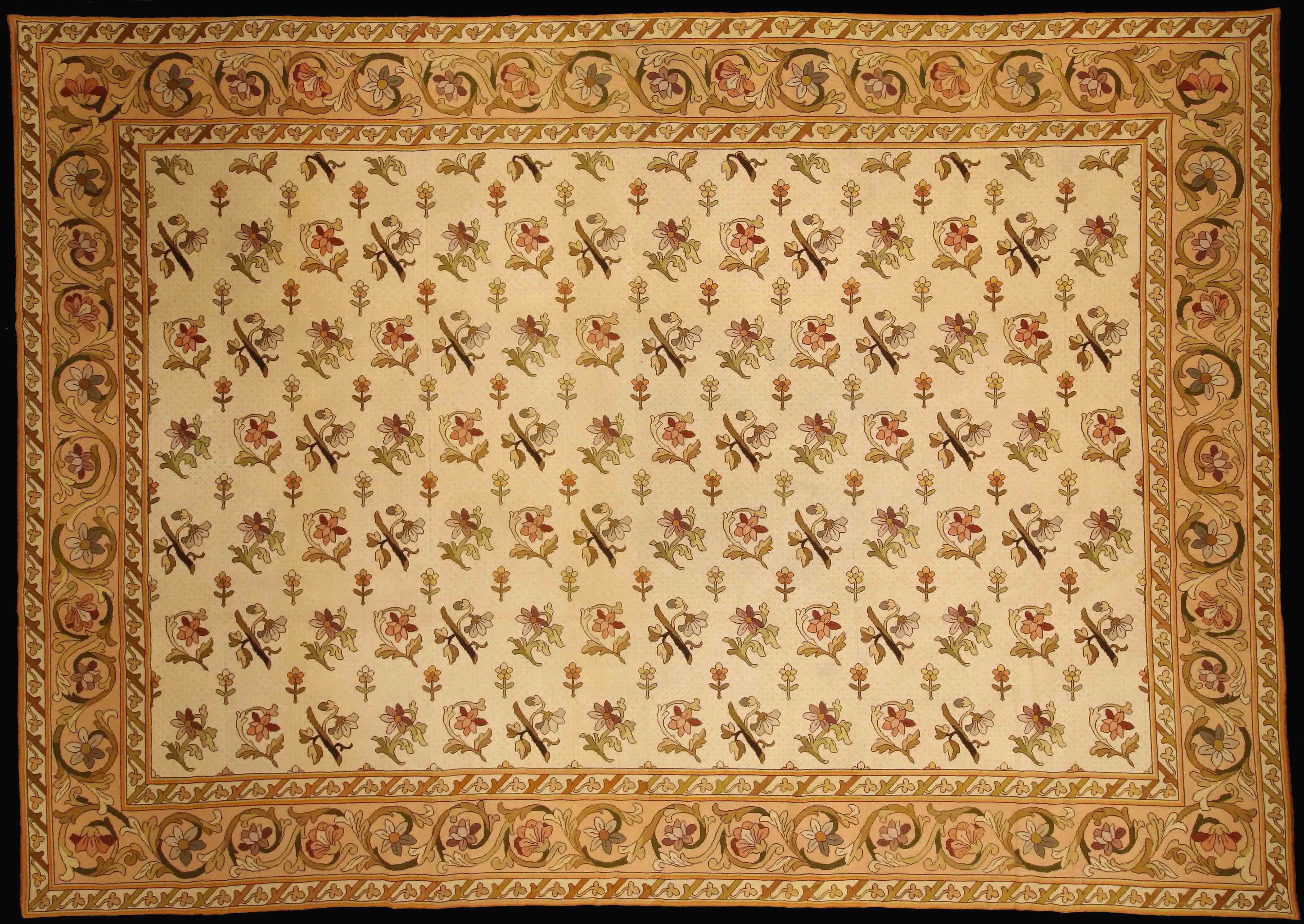 With this in mind, one could easily misidentify any floral design as an English Needlework, however one would have to look closely at the material and stitching to correctly confirm it as English from this period.
It is easy to see that floral designs, animal designs, geometrical designs – in fact any design would appear to the uninitiated as being just this, with apparently no clue as to where or when a rug was made. But there are many differences in fact which, when pointed out, will be more easily identifiable as English Needlework from the 16th to 19th centuries and which will help one to recognize this form of embroidery.
Originally dating from the mid-16th century, the first examples of these needlework's have mostly Italian Renaissance themes, with varieties of flowers, animals, houses and figures in the style and costume of this period. More clearly marking them as English Needlework's are the crests and coats of arms which they often bore. Colours were generally greens, blues, yellows and red brick. The wools employed in early English examples of these rugs have a springy and silky touch and are reputed from earliest times to be the best in the world. Today, the rugs dating back as far as the 16th century are very rare.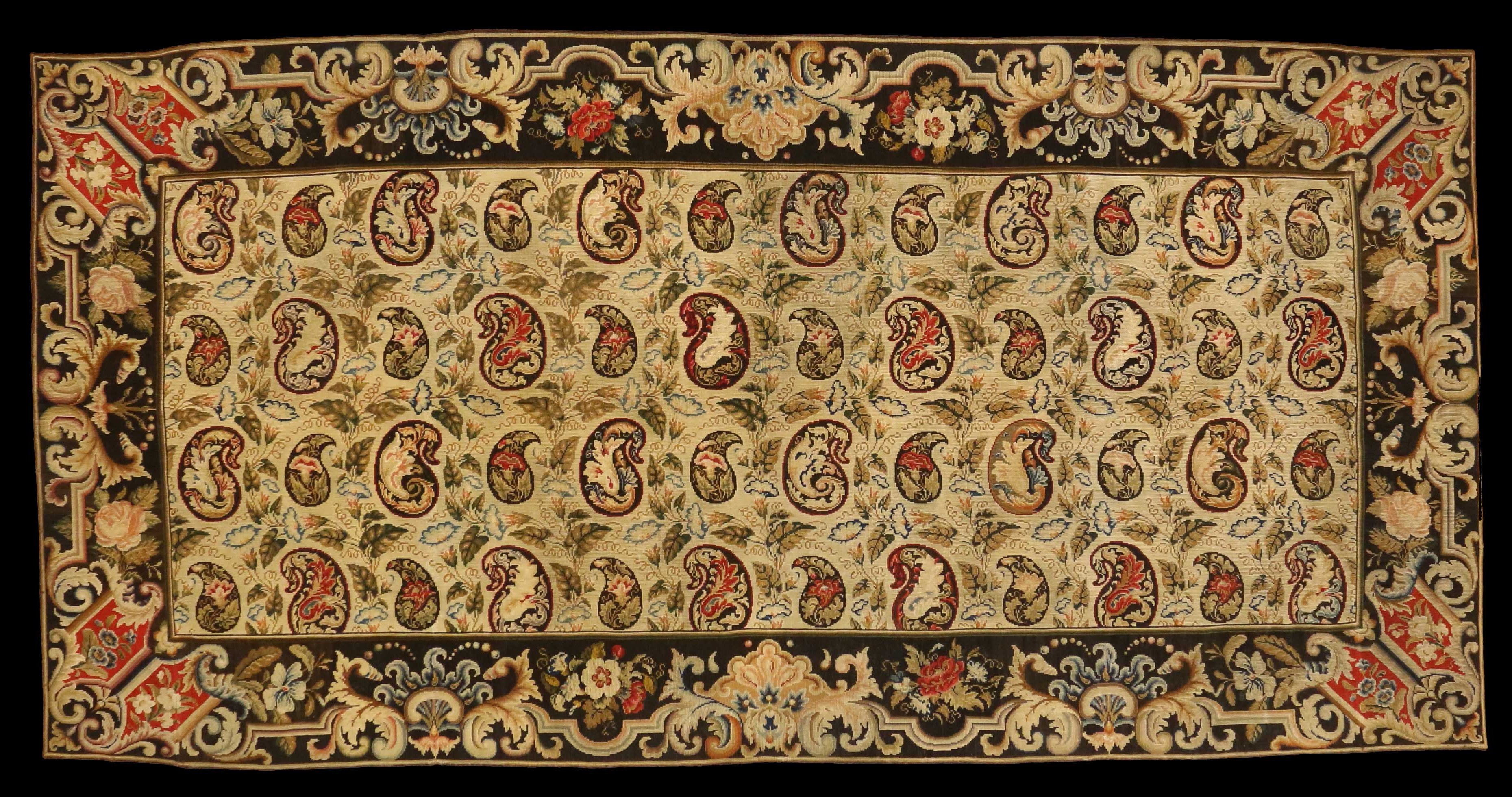 During the second half of the 18th and throughout the 19th century, English Needlework carpets were produced as a cottage industry. They continued to bear these features however the fashion altered from the previous years. Colourful wools were hand stitched on to canvas, using more blue tones with browns and coral; yellow became unfashionable. A mixture of large blooms, hydrangeas, peonies and other floral designs became the main body of these carpets.
The 19th century was a period of great activity, change and experiment and there was a tendency towards the imitation of the Caucasian designs set below the traditional floral art. Large exaggerated flowers, sometimes with fern designs, sprawled gracelessly in severe colours and yet are undeniably striking. Large cabbage roses, exotic flowers, lilies, orchids and the passion flower combined in huge profusions of colour to provide the mainstay of late Victorian needlework carpet designs. These pieces are still to be found today and create a very vibrant and decorative background for both the traditional and modern interior.