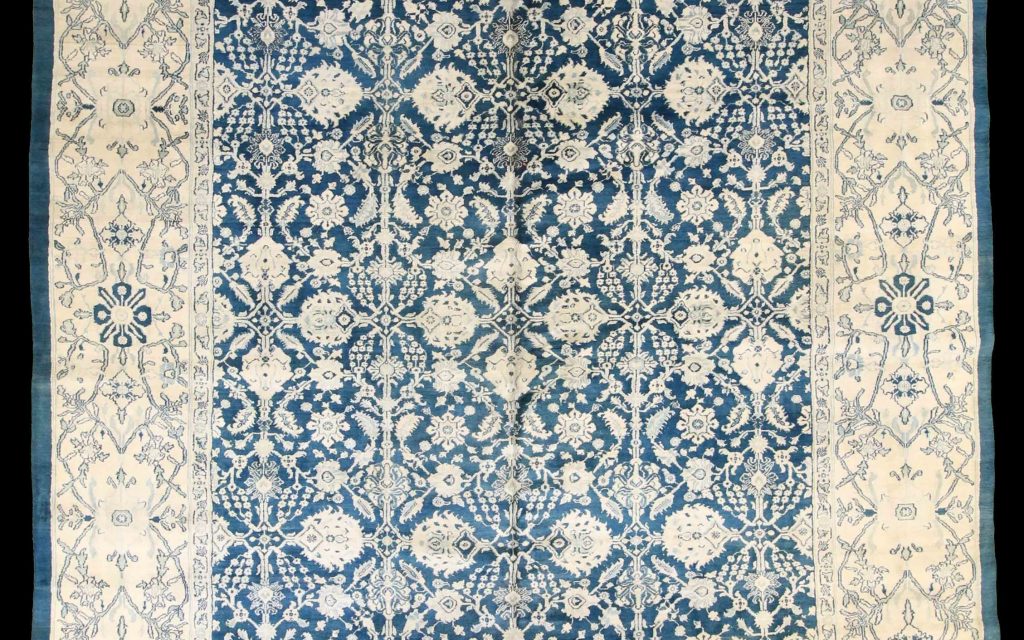 INDIAN AGRA CARPETS
The production of rugs in India dates back as far as the 16th century however these pieces became better known with the expansion of the British Empire into India in the 19th century. The British rule led to an increased market for exotic goods from the new territories.
Influences came from Persia where this industry was prevalent however the Indian rugs weavers soon developed their own unique style. Using elegant designs in both soft tones and deep red and blue colourings, they saw a reinvention of the Shah Abbas 16th century Isfahan carpets. Colours came from natural dyes which lend themselves to a highly decorative appearance, complimenting both English and French furniture of the 18th and 19th centuries. Remarkably they also enhance todays modernist interiors.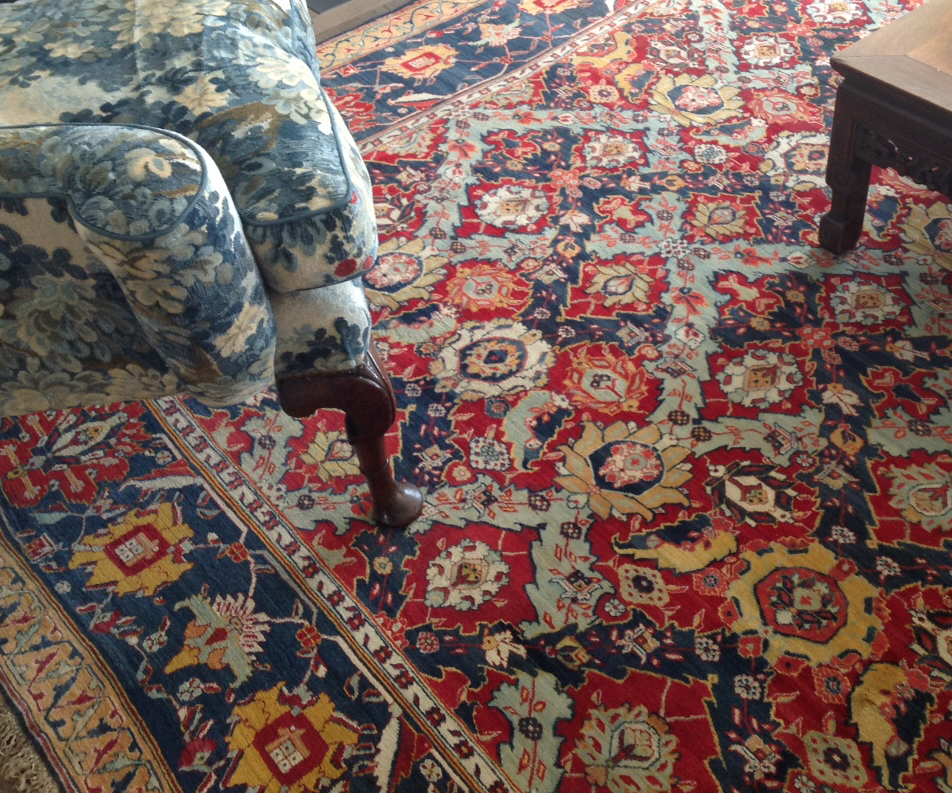 The area of India which saw the biggest resurgence in carpet weaving was Agra. Best known as the home of the Taj Mahal, it had traditionally been a centre for rug weaving since the 16th century. Weaving centres were established in the Indian Jails where looms were erected and the political prisoners were instructed by Master Weavers. The most famous of these weaving centres was the Agra Jail. The Master Weavers of the region were able to instruct the poorer labourers in the skills needed to produce superior, beautiful carpets. The quality of these carpets was exceptional, using the finest pure wool for the tightly hand knotted pile. Their designs were inspired by the classical Persian and Mughal carpets of the 16th and 17th centuries.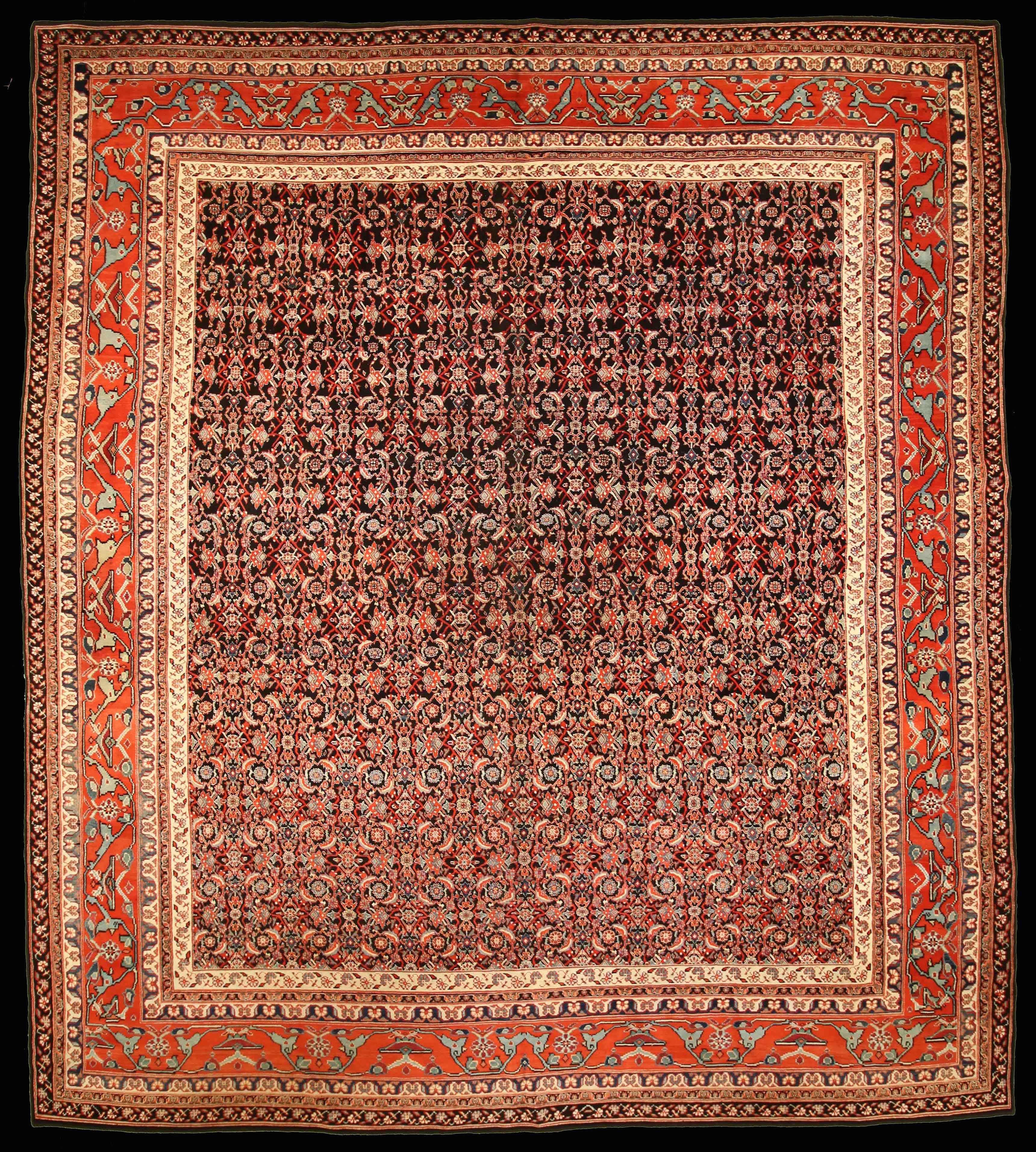 Since India was part of the British Empire, many commissions were received for high quality carpets in stately homes across England and there was also demand from the new mercantile classes that had emerged in Victorian England. The British Raj supervised and controlled the resurgence of carpet production in India to meet these requirements.
Emanating from Agra is a carpet of enormous proportions, which was woven for the Waterloo Chamber at Windsor Castle and was presented to Queen Victoria as a gift when she became Empress of India.
Waterloo Chamber of Windsor Castle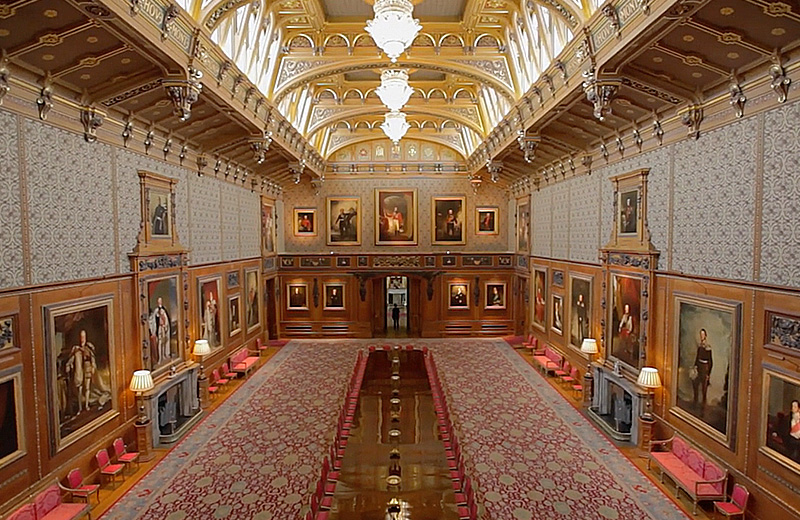 Copyright: Royal Collection Trust/© Her Majesty Queen Elizabeth II 2016 Photo Credit https://www.royalcollection.org.uk/visit/windsorcastle
The excellence of these woven works of art has ensured their demand and they remain much sought after and highly praised to this day.