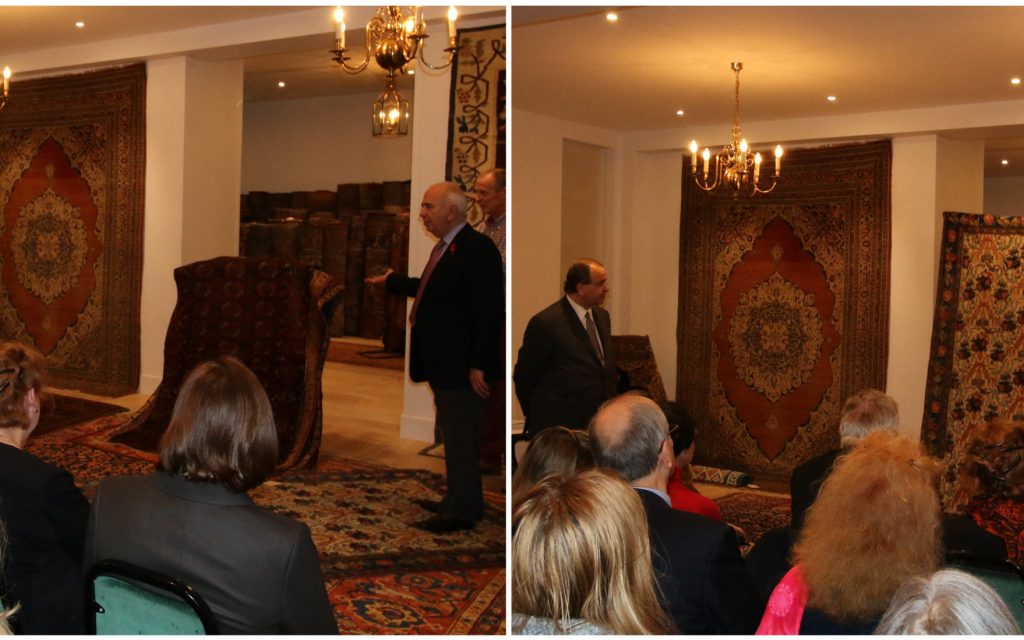 Last night, 35 people went travelling round the world on a Magic Carpet. What are you talking about, you may ask? Well, exactly that. Enthralled by the wonderful double act of carpet connoisseur, Mr Leon Sassoon and his dear friend, enthusiast and collector, Mr Bob Bell, a group of people gathered at the brand new and truly beautiful CJohn Gallery in Mayfair, to learn about antique rugs and carpets from around the world.
CJohn is a name that has been associated with the very best of rare rugs, carpets and tapestries for many decades. When looking for true knowledge and expertise, CJohn is the place to come, as was said by Bob Bell, who has been collecting rare carpets for over 40 years.
The evening was arranged by the British Antique Dealers Association (Thank you, Anne) and attracted people of all backgrounds to hear about the wonderful works of art owned by the CJohn gallery. We had the opportunity to hear about how rugs were made – do you know your weft from your weave? – who made them, when and where they were crafted.
Leon and Bob began the evening with a short introduction about how rugs are a form of art and are often reflected in paintings of the era. These carpets or tapestries were a background to an artist's design and there is a clear association between rugs and other art forms for example paintings, ceramics and tiles. So clear is the connection it is often difficult for the experts to tell which came first, the paintings or the rugs.
Beginning our journey on home territory here in England, we looked at a hand-woven Axminster Carpet that is about 150 years old. The English association with rare rugs is deep and historical with the trade of carpet dealers dating back to a time when England was a free trade zone and rug warehouses were a-plenty at the river docks. The carpet shown to the group, although certainly English was French-looking in its design.
Our travels continued with Leon and Bob crossing the channel to France where we learnt about the Aubusson carpets – generally a flat weave and the Savonnerie carpets which have a heavy pile. Savonnerie carpets, much like the one we saw can best be viewed at Waddesdon Manor in the Rothschild House – both Leon and Bob said it's well worth a visit.
We then moved through Europe to Spain, where Royal rugs have been made for centuries with many European palaces have them grace their floors. We learned that Italy and Scandinavia also had a tradition for rug making especially in the 19th century. Moving on we looked at carpets from Eastern Europe and Georgia. Many of the rugs we saw had a prayer mat look about them, instantly assuming the Islamic-made status. But once again Leon surprised us and said these were often made by Christians, especially Armenians who made many of the Caucasian rugs, some of which we were able to see. Other designs featured medallions or garden themes. We were shown silk weaves versus woollen weaves, knotted weave and flat weave noting the colours which were all so rich and delectable.
Persia was next with many examples and explanations about the carpets from this region – probably the most well known in the rare rug industry, followed by Turkey notably the Ladiq carpets preferred by King Henry VIII, Central Asia, India with the Agra rug often weaved by inmates of the local prisons and finally China with its very distinct Imperial look.
Amazingly as the evening went on, the carpets kept being rolled out with people wanting to see more and more. The enthusiasm was palpable and  it was hard to bring the evening to a close.  What was seen over and over again throughout the presentation was the amazing condition in which carpets stocked by CJohn have been maintained. It is rare to find a place where carpets as old as the ones here have been maintained to such high quality.